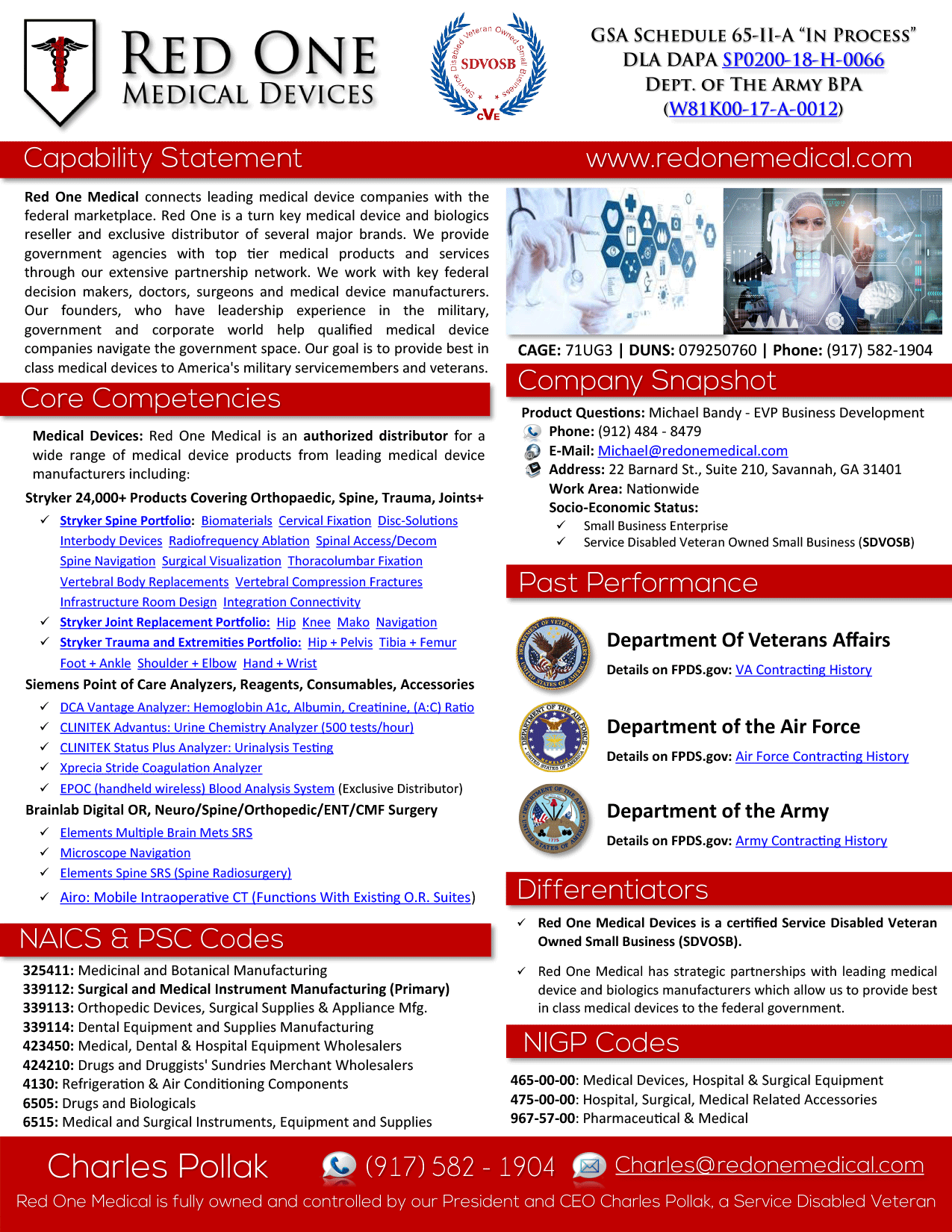 Medical Devices: Red One Medical provides a wide range of medical device products (Class I, II and III) from leading medical device manufacturers to include:
General Healthcare Equipment
General Surgical Equipment
Durable Medical Equipment
Implantable Surgical Hardware
Biologics
Pharmaceuticals
Custom Research and Development Solutions
Access to Fortune 500 research and development resources.
Assess government agency needs before they arise.
Partnerships with our vast network of medical manufacturers, distributors, doctors, surgeons, and industry leading experts.
Technologically advanced solutions that reduce risk, costs, and labor.
World Class Staff – Medical Device Industry & Government Contracting
Our team members have decades of experience with leading medical device companies; including: Medtronic, Depuy, Biomet, Nuvasive, Boston Scientific, St. Jude and Synthes. Additionally, our team members have over 50 years of experience in Federal contracting; working both for the government creating contracts for bid and in the private sector fulfilling them.
Red One Medical
In The Process Of Securing GSA Schedule 65-II-A
Government Business POC: Charles Pollak
Phone: (917) 582 – 1904
E-Mail: Charles@redonemedical.com
Address: 22 Barnard St., Suite 210, Savannah, GA 31401
Work Area: Nationwide
Socio-economic Certifications:
Small Business

Service Disabled Veteran Owned Small Business

Veteran Owned Small Business
Department Of Veterans Affairs
Details on FPDS.gov: VA Contracting History
Department of the Air Force
Details on FPDS.gov: Air Force Contracting History
Government Classification Codes
NAICS Codes
339112: Surgical and Medical Instrument Manufacturing
339113: Orthopedic Devices, Surgical Supplies & Appliance Manufacturing
339114: Dental Equipment and Supplies Manufacturing
423450: Medical, Dental, and Hospital Equipment and Supplies Merchant Wholesalers
PSC Codes
6515: Medical and Surgical Instruments, Equipment, and Supplies
Red One Medical is a certified Service Disabled Veteran Owned Small Business (SDVOSB)
Red One Medical has strategic partnerships with leading medical manufacturers which allows us to provide state of the art products to our customers.
Red One Medical's sales and support teams are available at all times to support surgeons, hospital staff, and contracting officers.
Red One Medical has assembled a team with extensive experience as medical sales representatives, contract specialists, and business managers.
Red One Medical is dedicated to providing our customers with the highest quality products and services at competitive prices.